What Are Hospital trolley Used for?
Hospital trolley, also named medication trolley,medical trolley,medicine cart,medical record cart.Medicine Trolleys are secure, efficient and convenient systems for storing and distributing medicines within the hospital or nursing home.Medical carts are used in healthcare facilities to store and transport medicines, medical supplies, and emergency equipment. Medical carts can be specialized for any scenario from crash carts, isolation carts, respiratory carts and many more. Contact us to know more about the hospital trolley.

Hospital trolleys play an important role in healthcare settings as they allow medical staff to safely store, access and move medications, medical equipment such as patient monitoring systems, electrocardiographs, oxygen cylinders, defibrillators, medical supplies such as respirators Face shields, syringes, critical components medical equipment and more where needed.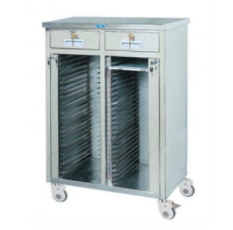 Different types of medical trolley cart, such as emergency carts, anesthesia carts, dressing carts, laparoscopy carts, etc., are used for different types of applications.

Features of hospital trolley/medication trolley:

- Smooth stainless steel shelves and shelves with handrails and railings.

- Equipped with silent casters with brakes.

- Equipped with guardrails to prevent objects from falling.

- Well polished and welded.

- Firm and stable installation.

What Are Hospital trolley Used for?

1.Storing Medical Supplies In Isolation Rooms
2.Holding Tools Necessary For Surgical Procedures
3.Transporting And Dispensing Medication And Tools In An Emergency
4.Storing Medicine
If you are interested in sending in a Guest Blogger Submission,welcome to write for us!